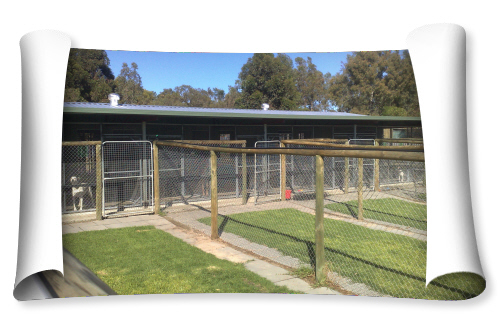 Please note: Our street has been renamed - as of 1st July 2017 we are now
12 Candeloro Road, Canning Vale
. Some GPS maps etc may not be updated yet so you may still need to look for Fraser Road (
NOT
Fraser Rd NTH)**
Situated in Canning Vale, Perth, Western Australia, our extra large kennels give your dog/s the space and freedom to stretch out, and also oppotunities to play in maintained grassed exercise areas. When they stay with us, your best mate will have the opportunity to enjoy their holiday and accommodation as much as you enjoy yours!
We offer: extra large kennels to give your dog/s the space and freedom to stretch out, maintained grassed exercise areas to play in, lots of toys, special diets catered for, socialising, trampoline beds, special geriatric facilities, hydrobath facilities and pick up and delivery service available throughout the Perth metropolitan area, for all breeds and sizes of dogs.

With a combined total of approx. 55 years experience in boarding, breeding, exhibiting and just plain enjoying dogs, we are able to ensure your dog's boarding kennel experience is an extremely pleasant one, leaving you with the peace of mind to be able to relax and enjoy your break knowing your canine pal is in safe hands.

Your dog will love boarding with us! We are a boarding kennel that cares about your dog, and we go to great lengths to make sure that your dog enjoys their holiday as much as you do, and are genuine dog lovers with six dogs of our own.

Inspections are welcome*, and we look forward to meeting you and your dog soon!

The Paw House - Formerly Frasers Boarding Kennels....

... our name may have changed but our great service and our genuine love for dogs hasn't!
***To all our valued clients, old and new...***

We would very much appreciate it if you could aim to be here AT LEAST 10 - 15mins BEFORE our posted closing times instead of AT closing; this will make for a much more relaxed and pleasant check in for all involved.

We do realise that sometimes things happen, traffic delays occur etc and we will help where we can in emergencies but if you could make sure you leave enough time to account for a possible delay and still get here well before closing it would be greatly appreciated.

Our closing time is when we shut the gate, not when we take last clients in. The fact that we live here does not mean we are always going to be here outside of opening hours as we do schedule appointments or other activities we need to attend when we are closed and sometimes we need to leave as soon as we are closed so that we do not then make other businesses etc run behind....
Thanks in advance for your future co-operation!
For all enquiries please contact us
We look forward to hearing from you soon!

30/06/2021 12:00
Rates increase as of 1st July 2021
12/02/2016 13:40
**NEW POLICY** - Deposits required for Peak Period & advance bookings
*inspections are welcomed during our opening hours with the exception of sundays & public/school holidays
Opening hours:
Monday - Friday:
8.00 - 10.00am
4.00 - 6.00pm
Saturday:
8.00 - 9.00am
Sunday & public holidays:
4.00 - 5.00pm only
Please note: we are closed on the following days:
Christmas Day
Boxing Day
New Years Day
Good Friday
Easter Sunday