About Us...
The Paw House Boarding Kennels is owned and operated by myself, Claire, and my husband, Leigh. As mentioned on the home page, between us we have 45+ years combined total experience in kennels and dogs in general...
I have been working in kennels since the age of 13, starting out with weekend work whilst I was still at school and then moving on to full time work managing a large breeding/boarding/pet transport establishment. I also bred & exhibited Border Collies for many years, with moderate success, as well as exhibiting several other breeds for myself & others.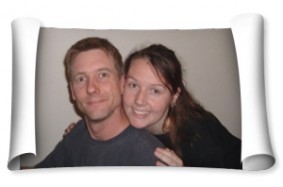 Above: Leigh & Claire
Leigh was "born into" the dog world, as his parents have been breeding, exhibiting & boarding dogs for 35+ years, and he himself has had several years experience in all manner of doggy enterprises.
We are both members of DogsWest, and share our home with our own menagerie of pets, including 6 dogs of our own; FeeBee the French Bulldog, Buzz the Whippet, Tango & Millie the Border Collies, Butch the crazy Brittany and Gizmo the Papillon plus one Eevee Cat.
Along with our two children, Grace & Thomas, we are both genuine dyed-in-the-wool animal lovers committed to ensuring that your dog feels safe, secure and comfortable during their stay with us. We spend lots of time with our canine guests and go to great lengths to make sure they really enjoy their "holiday"; most of our regular clients get really excited when arriving at the kennels as they know that lots of fun in is store!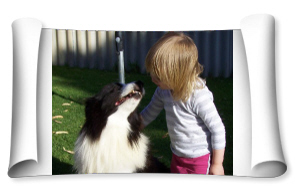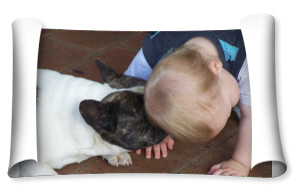 L: Kapper (RIP) & Grace sharing a moment R: Feebee tells Thomas a secret