Our Kennels...
We currently have 30 kennels, divided into 3 sections in two separate kennel blocks:
Block 1
Our original kennel block is made up of 12 brick & iron kennels, 6 front & 6 back. The front six kennels we call our "special needs wing" - we use these for any small, elderly, baby or "special needs" guests. We have heating available in these kennels for keeping those guests who are arthritic or who feel the cold nice & toasty!
All 12 kennels in our original block are more than large enough to comfortably house two of even the largest of breeds, measuring approx. 1.9m wide X 5.2m long. Each kennel has a cosy sleeping area with a fully covered, concrete floored patio area attached and there is plenty of room to stretch, laze about or play.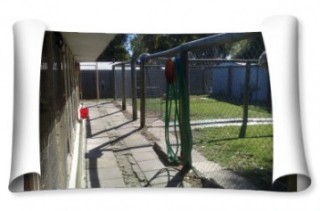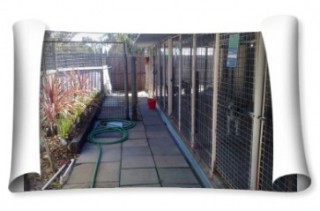 L: The front six kennels - our special needs wing R: The back six kennels - for our less rowdy visitors
Block 2
Our new block of 18 kennels was completed in 2008. We designed these kennels specifically for extra large dogs and family groups and they are large enough to house up to 3 big dogs (eg GSD, Rotties, Mastiffs) or 2 giant dogs (eg Great Danes) in comfort.
As previous "big dog" owners & lovers ourselves, we understand that owners of two or more large dogs don't want to have to separate their dogs due to space constraints, so we built these kennels with that in mind. Made from 25 x 25mm steel mesh & Colourbond and insulated for comfort in summer & winter alike, each kennel is 2.1m wide X 5.8m long, fully covered and has a sleeping area under the main roof.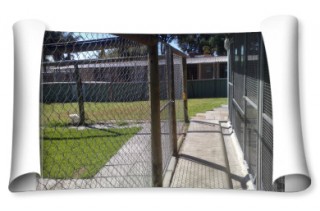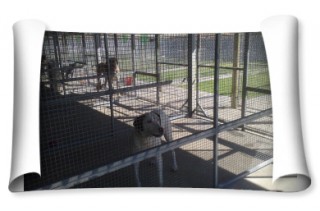 Our new kennel block - room to move for the big dogs! Pictured in her kennel is Milou, the gorgeous Bull Arab x Great Dane.
Each kennel is set up on arrival of our canine guests with a trampoline style bed, cozy blanket and/or jacket if needed, fresh clean water bowl and a toy or two. We regularly restock our toy supply with Kong® activity toys as well as rubber tyres and squeaky toys etc so we do have plenty here to keep your best mate amused! :o) For our elderly, arthritic or smaller guests who may have issues getting on & off of our standard beds, we have Futon Beds available - these have a 50mm thick foam mattress set flush into a powder-coated steel bed with a strong wire base, that is only 90mm off the ground.
We also try & match our boarders up with a suitable doggy friend as we find they do so much better with some suitable company :-) When picking a playmate we take age/size/activity levels & most importantly, temperament into consideration. ** Please note, we do not accept dogs with known aggression issues towards dogs or humans**
Whilst we have more than enough bedding/jackets/toys etc to cater for the most indulged of guests, we understand that sometimes "Fido" would prefer the comfort of something from home. You are welcome to bring along a blanket or toy or two, with a few exceptions/conditions:
No feather doonas! as these make a frightful mess if torn or chewed up
Only one or two toys - we really do have plenty here and it is easier to keep track of one or two items as opposed to the entire toybox from home :o)
Please note while all care is taken, we take no responsibility if toys or bedding are chewed, torn or otherwise destroyed whilst here - even the most normally well-behaved of pooches may suddenly decide that shredding their wicker basket is a good idea!
Our Exercise Areas...

We have 14 large grassed exercise areas - the big dog kennel playyards are separate from the small dog/special care kennel play yards for everyone's comfort :-)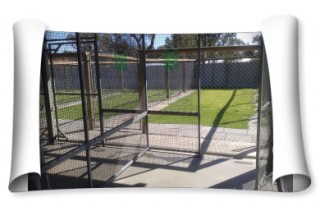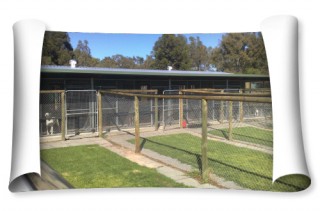 L: View of the exercise areas from the "big dog block" R: Room to move - these exercise yards measure 4m x 12m

Weather permitting, the dogs get out for "playtime" at least twice a day for at least an hour. Sometimes the weather is not conducive to long play sessions; at these times we make sure that all residents get out for at least long enough to relieve themselves.

We understand that most dogs are housetrained and will not go to the toilet in their kennel - we make sure they stay comfortable and give them plenty of opportunity to "go" on the grass.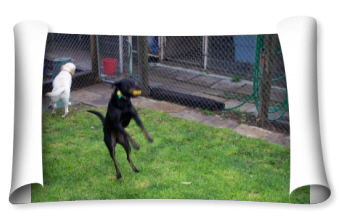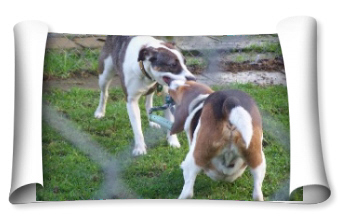 L: Josie plays Catch the Ball! :-) R: Tug-o-war - always a favourite! Just ask Macey & Max
ALL playtimes are supervised - we usually schedule these at the times when we are either cleaning or feeding anyway so the dogs get plenty of social interaction - both with other guests and with ourselves as we potter about doing the chores :o) The grass areas have a good selection of toys for the dogs to play with - we make sure there is a variety of toys in each yard such as Kongs, hard rubber dumbbells etc for the chewers, and so on.

We charge no extra for playtimes; while staying with us your dogs are treated as our own would be and this includes plenty of mental and physical stimulation - our repeat customers who bang on the gates and bark to come in on arrival at The Paw House bear testament to this!


Feeding...

We pride ourselves here at The Paw House on the fact that your dog will go home in as good, if not better, condition than when they arrived. We take great pains to make your dogs stay a pleasant one; this includes providing a quality diet, individually selected and prepared to cater for your mate's specific needs.

We only feed top quality food, and have a selection of different types of ultra-fresh, locally made biscuits available on hand to cater for all lifestages and needs, as well as Prime100 meat roll.

All canine guests are fed twice daily whilst boarding with us - this ensures that no tummy is overloaded with one big meal, possibly causing problems. It also means that everyone is happy to go back into their kennel after playtime as they know breakfast or dinner is waiting for them! We also have a good range of treats and snacks on hand.

If your dog has specific dietary requirements, or is on a particular food that we may not have, please feel free to bring it along and we will feed as per your instructions at no extra cost.